Find personnel for HVAC / GWH from Eastern Europe
Find qualified heating technicians!
Are you looking for expert heating technicians or heating engineers who can get your defective systems up and running again without long waiting times and, in the best case, at a reasonable price? Or do you need personnel for planning heating systems, heating installations or converting heat pumps? Qualified heating installers or heating engineers are not so easy to find in Germany. That's why we, Temporary Work International, can help with our qualified personnel from Eastern Europe. 
With our help, you can quickly find a suitable heating technician from Poland or Eastern Europe. We provide you with the certified specialists from the following areas Heating, Ventilation & Sanitation for the installation and maintenance of central heating and ventilation systems. Our heating technicians, air conditioning technicians and plant mechanics for sanitary, heating and air conditioning from Eastern Europe speak German and can be at the place of work within 7 days. 
We, Temporary Work International, are specialised in subcontracting, personnel placement and temporary employment from Eastern Europe. We place experienced Heating engineers, plumbers, Plumbing technician, ventilation technician from Poland, Croatia, Hungary, Czech Republic, Hungary, Ukraine, Latvia and other Eastern EU countries. Become our partner and benefit from our Europe-wide network and many years of experience with local country requirements and laws.
Temporary employment & personnel placement for heating and sanitary engineering
Our qualified Temporary worker heating engineer from Poland and Eastern Europe and Subcontractor Teams for ventilation systems take on all tasks that arise in the areas of heating and sanitary engineering. This includes maintenance and repair, but also the planning and installation of new heating systems and other work: 
Our heating technicians or heating engineers from Poland and Eastern Europe also undertake work in the field of energy-related building renovation as well as modern heating systems such as heat pumps. In addition, our workers from Eastern Europe take care of the coordination of complex systems. Save time and money! With our help, you can find cheap heating and sanitation technicians as well as other specialists for heating, air conditioning, sanitation from Eastern Europe.
Find temporary workers heating engineer (HKLS / GWH)
As a temporary employment agency and recruitment agency for Eastern Europe, we can draw on many years of experience in the placement of temporary workers and subcontractors from Eastern Europe.
Our trained heating engineers from Eastern Europe take over heating installations and all work around HVAC / GWH area.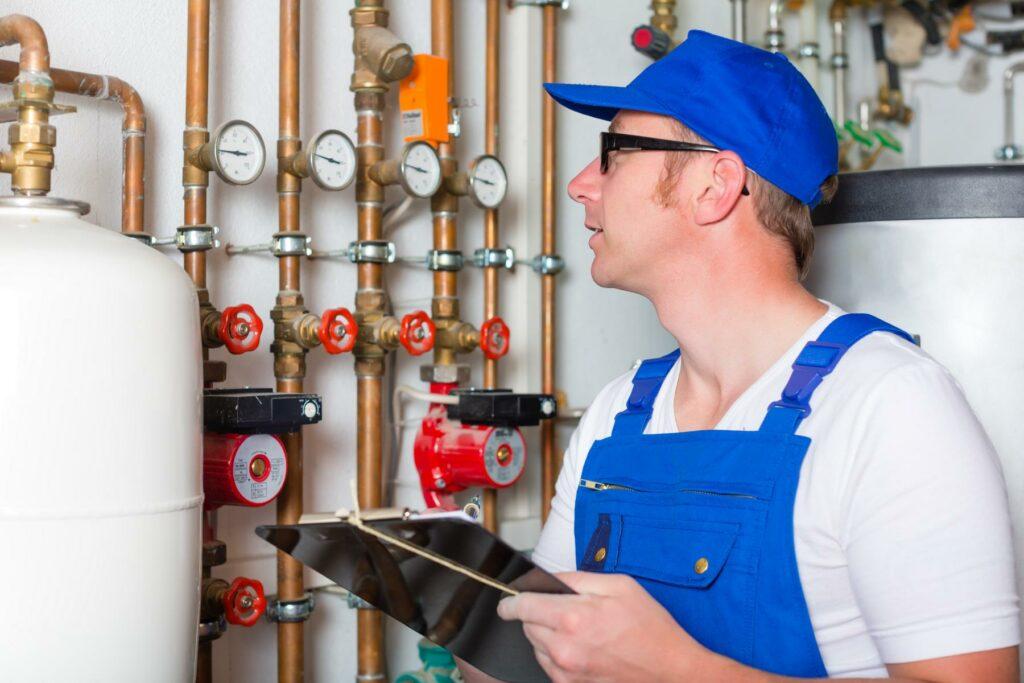 Personnel for air conditioning, heating, sanitation from Eastern Europe
The Temporary Work International Supports companies in their search for skilled and unskilled workers in the field of Sanitary, heating and air conditioning industry (HVAC / GWH). Our personnel placement extends to Germany and Austria. We know the heating, air conditioning and sanitary industry in all areas from the Plant engineering about the Industry to the installation company. Because every sector has its own industry-specific requirements that need to be met. Expertise and industry knowledge as well as many years of experience in the field of heating, air conditioning and sanitation - that is our core competence. 
Search Subcontractors for temporary workers in the field of heating, ventilation and sanitation? Then get in touch with us. We are sure to have the right Polish plumbers, heating engineers and fitters for your subcontractor order in our network. We offer you individual solutions for your personnel requirements through Employee leasing, Contracts for work, Recruitment or posting of the Labour from Eastern Europe. 
Heating fitters & sanitary fitters in temporary employment
Rely on our qualified fitters and heating engineers from Poland and Eastern Europe for heating construction projects or sanitary projects. Whether plumbers or assembly personnel in Temporary work or Recruitment - Zeitarbeit International puts together a suitable assembly team including machines, transporters and tools for your project.
We arrange subcontractors & temporary workers from Poland, Croatia, Czech Republic, Lithuania, Latvia, Ukraine, Bulgaria, Slovenia, Hungary , Romania for the areas of HVAC / GWH, Electrical engineering, Welding technology, Industry, HVAC/GWK, Production, Logistics & Forwarding.
Our experts with many years of experience in requested areas of heating technology or sanitary installation have completed professional training. Our aim is to provide you with the necessary Personnel from Eastern Europe for the processing of your order within the framework of the Employee leasing or a Contract for work to you. For this purpose, we only select suitable fitters and heating technicians for your request from our Eastern European employee network. Trust our experience and competence and become our partner!
We provide the best, German-speaking heating engineers, plumbers, ventilation technicians, heating technicians, installation personnel from Eastern Europe for your project. Individually according to your requirements, we assign qualified specialists and ensure compliance with legal regulations, deadlines and agreements. Our services include organisational and administrative tasks as well as the necessary forms and permits.
Are you interested in working with us? Give us a call!
Request your personal offer without obligation. After receipt of your request, you will receive our offer within 24 hours on working days, or 48 hours on weekends and public holidays.