Find production workers from abroad
Production workers and employees from Ukraine or Poland are very popular with our clients. You want a legally secure work contract or the classic employee leasing when it comes to assignments or personnel from Eastern Europe? We are happy to support your project when it comes to short-term and long-term assignments of personnel from Poland and Ukraine.
Auxiliary workers from Eastern Europe and countries such as Poland and Slovakia are ready to work at short notice. Our team takes care of everything from accommodation to logistics and the necessary papers and registrations with the authorities, so that nothing stands in the way of a reliable and short-term assignment for your production or other projects. When it comes to personnel from Poland, Ukraine or Europe, we are your right contact. From production assistants to skilled workers and craftsmen,- we have personnel from almost all branches for you: electricians, welders, locksmiths, industrial mechanics or production workers for your factory. We look forward to your enquiry and will also be happy to send you our reference list.
Placement of workers - Requirements
Our employees seconded to you receive the statutory minimum wage and are properly insured with the health insurance fund and the relevant authorities. In addition, we have liability insurance for our employees. As you can see, our team works professionally and in compliance with the law. 
In addition to direct personnel placement, our services also include employee leasing and subcontractor placement for industry and production. We send temporary workers from Eastern Europe via a service contract or contract for work and labour. It is important that all legal requirements are met and that everything is planned and administratively implemented before the planned deployment. We are your partner when it comes to personnel from Europe. 
Production helper placement - this is how it works:
Define requirements - by phone at +49 24038092219 or via the enquiry form.
We research for the right candidates
You will receive a non-binding offer 
We take care of the contractual formalities, transport and accommodation on site.
Your workers can be on site in 7 days.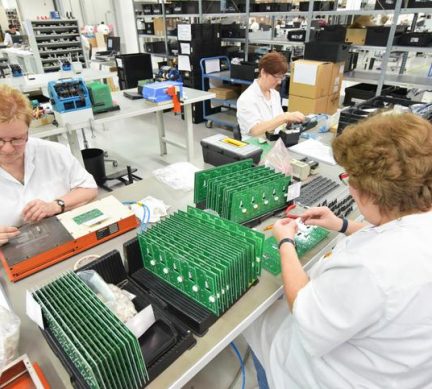 Ukrainian employees - recruitment agency
Many German employers are currently willing to hire workers from Ukraine, we support them as a recruitment agency with our experience and help Ukrainian workers with a smooth migration process. When hiring workers from Ukraine, international companies need to take into account the specifics of the Ukrainian labour market. Ukraine is a very large source of both high and low-skilled labour. So if you need workers for a range of positions, Ukraine could offer a good solution. Ukrainians are also very flexible and can often be hired on a temporary or part-time basis. So if you need someone who can work as needed, Ukrainian workers could be a good choice for you.