Temporary worker electrician
We place temporary workers electricians, electrical installers, electrical technicians from Eastern Europe

Temporary workers electricians, electrical fitters, electrical engineers from Eastern Europe
Temporary workers Electricians from Eastern Europe are an important part of the German labour market. Many companies bring them to Germany to reduce unemployment in the sector. Most electricians from Eastern Europe come from Poland and from the Baltic States as temporary workers or subcontractors. They are cheaper than their German colleagues and at the same time have similar qualifications and experience. Most Polish electrician know the latest electrotechnical standards and procedures. Therefore, they can start work immediately without trying longer to gain this knowledge. Many German companies prefer Polish electricians because they believe that they are better workers and can do more than their German colleagues.
Temporary workers from Eastern Europe are electricians with a lot of experience. They have learned a lot in recent years and are now ready to pass on their knowledge in Germany. These electricians have the best working conditions and are very reliable. In addition, they usually speak perfect German and can therefore integrate well into our society.
Advantages of electricians in temporary employment
Temporary electricians offer many advantages for companies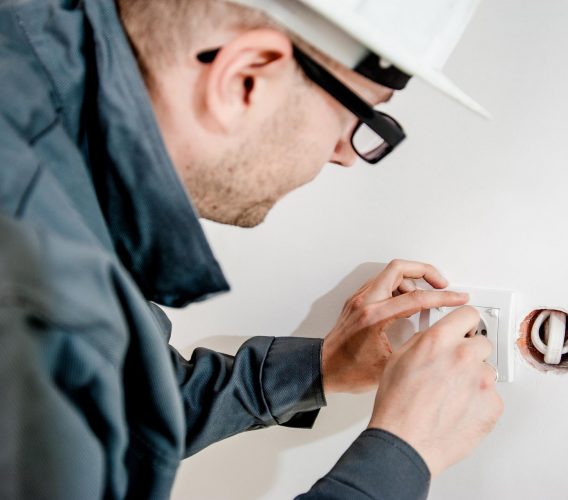 The role of agency workers in the electrical industry
Temporary workers from Eastern Europe, especially temporary electricians from Poland, are an important labour resource in the electrical industry. They contribute to the success of many companies and enable them to react flexibly to the respective needs of customers. At the same time, temporary workers also pose challenges for the companies, as they have to take care of the employees' needs and at the same time try to meet the customers' requirements. More about temporary work >>>
The importance of temporary workers Electro in quality controls
Temporary workers in the electrical industry play an important role in quality control. Generally, they check the final products or components before they are delivered to the customer. This process is crucial for quality assurance and helps to detect and correct possible defects before they reach the customer. In this way, companies can also pass product quality tests and maximise their customer satisfaction. In addition, it is essential for temporary workers in the electrical industry to maintain high quality equipment, processing techniques and safety standards. They must ensure that all elements of a product or project have been manufactured to the specified standards and that the customer is provided with the expected quality. 
In addition, in some cases, agency workers may also be used to carry out tests on competitor products to verify their functionality. With all this work, it is vital that agency workers in the electrical industry have the most relevant technology and have the necessary expertise to complete all tasks effectively. 
Likewise, they should have in-depth knowledge of quality testing processes and have access to state-of-the-art testing equipment. This is the only way to ensure that every element of the project is checked and that there are no defects. Through their important role as part of the quality control process, temporary electricians, electrical engineers help ensure product quality and identify defects in a timely manner. With the right knowledge, they can conduct in-depth tests and identify serious defects in advance, ultimately ensuring a high level of customer satisfaction.
Temporary workers in the electrical industry: A (not) problem?
The use of temporary electricians has long been controversial. Many companies argue that using temporary workers from Poland, the Czech Republic, Slovakia or Eastern Europe increases the flexibility and efficiency of production. Others, however, see mainly disadvantages in practice: Temporary workers are often less well trained and therefore have accidents more often. They also complain about poorer pay and working conditions. In recent years, the discussion about the role of temporary workers in the electrical industry has come to a head. This is mainly due to the increasing use of agency workers in this industry. 
In 2017, temporary workers accounted for 6.7 per cent of all employees in the electrical industry. This makes the electrical industry one of the sectors with the highest proportion of temporary workers. Most of them come from Eastern Europe and the Baltic States. 
Temporary electrician wanted? We will support you!
Are you looking for temporary electricians from Eastern Europe? For years Zeitarbeit International has had a network of temporary workers in Poland, Croatia, Czech Rep., Lithuania, Latvia, Ukraine and Hungary for the areas of electrics, electrical engineering, Welding technology, Industry, HVAC/GWK, Production, Logistics & Forwarding built up. Our temporary workers are reliable and competent. 
We quickly and successfully place your electrician, electrical engineer, electrical installer from Poland and Eastern Europe. Make a non-binding Request. Our temporary workers speak German and can be on site in as little as 7 days.
We arrange the best, German-speaking electricians from Eastern Europe for your project. We place individually according to your requirements and ensure compliance with legal regulations, deadlines and agreements. Our services include organisational and administrative tasks as well as the necessary forms and permits.

Finding the right workers from Eastern Europe in the right place at the right time

Are you looking for personnel? We place skilled workers and simple helpers from almost every  

Are you looking for personnel? We place skilled workers and simple helpers from almost every  

Are you looking for personnel? We place skilled workers and simple helpers from almost every  
Are you interested in working with us? Give us a call!
Request your personal offer. After receipt of your request, you will receive our offer within 24 hours on working days, or 48 hours on weekends and public holidays.